Hanoi is a stunning city full of history, mysticism and magnificence. There are so many things to see in Hanoi, tourists could stay for weeks and not get bored.
Here's the We Solo list of things not to miss in Hanoi, Vietnam.
Things Not To Miss in Hanoi
Explore Hanoi Old Quarter
Exploring Hanoi's Old Quarter on an expertly driven tricycle is fun and fascinating! We loved every moment of the experience but, be warned, it is best to keep your limbs tucked in as the journey can be nerve-wracking!
The Old Quarter consists of 36 streets of unique architecture heavily influenced by French colonial rule and more ancient Asian styles. Perched on the front of the bike you'll have a fantastic view of the sights as they whizz by.
A tour will take you past The Bach Ma Temple, the Joseph Cathedral, and the Dong Xuan Wholesale Market. Ask your driver for a leisurely stop at beautiful Hoan Kiem Lake to take photos.
See the city of Hanoi on wheels by booking a sightseeing cycling tour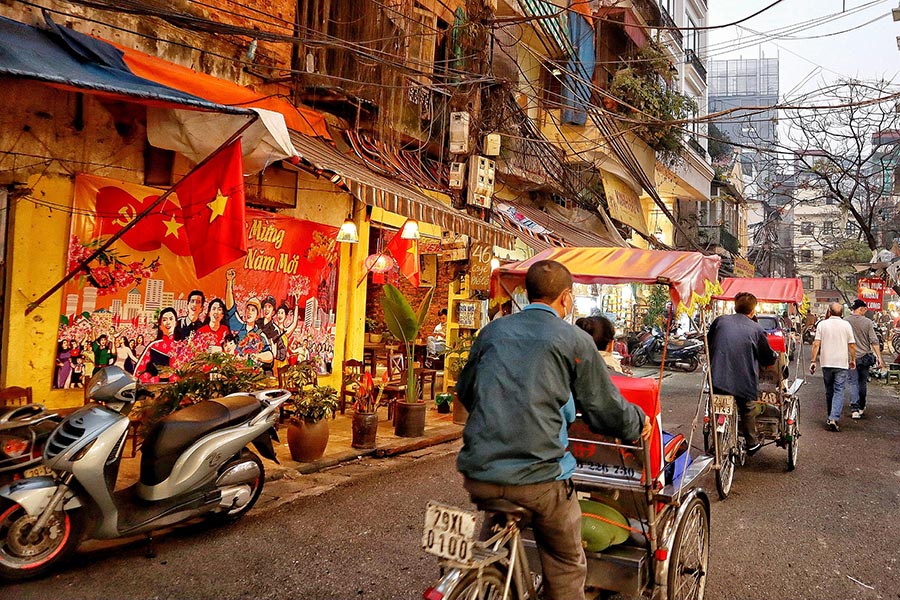 Visit the Temple of Literature
The Temple of Literature is a peaceful oasis in a frantic city and it's a gorgeous location to re-charge your soul and amazingly, even after 1000 years, the temple has stoically held on to its original character and style.
The foundation stone of this ancient university was laid in 1070 to honour the philosopher Confucius and soon became Vietnam's Imperial Academy. It was the first example of organised education in Vietnam and exams were invigilated by the Chinese Emperor himself.
The temple has five courtyards, large ornate halls, and lovingly tended gardens. Highlights include elaborate statues such as the lucky blue stone Stelae of Doctors, a carving which is etched with the name of every Royal Exam scholar.
> SUGGESTED READ: BEST THINGS TO DO IN HO CHI MINH CITY
Visit the Ho Chi Minh Mausoleum
The Ho Chi Minh Mausoleum is the last resting place of the iconic leader, Ho Chi Minh, a beloved man referred to as 'Uncle Ho' by his people.
The remains are preserved in a case of glass inside the mausoleum and visiting is a haunting experience. It's an important part of a trip to Hanoi however, his story is vital to an understanding of Vietnam.
Designed to emulate Lenin's mausoleum in Russia, this austere structure is cherished by a population who wanted their leader to live forever.
When visiting, your attire should be modest, security is tight and respectful behaviour is a must.
Visit Hao Lo Prison
Hao Lo Prison is an informative, if sometimes disturbing, site to visit. It was a brutal place that earned the sarcastic nickname of the 'Hanoi Hilton' by US POW's during the Vietnam War.
Conditions in the prison were appalling as a building designed to house 450 inmates would often exceed a population of 2000.
Many of the permanent exhibits focus on the battle for independence from France and include chilling artefacts such as the guillotine used to chop off the heads of Vietnamese revolutionaries.
There are also some displays that focus on the American War and the US pilots who were caged here.
> SUGGESTED READ: REASONS TO VISIT PHU QUOC ISLAND
See the Imperial Citadel of Thang Long
Constructed in the 11th century, the Citadel was built to commemorate independence from Chinese rule. It was the hub of politics for over 13 centuries, an incredible feat in tumultuous times.
The architectural style is completely unique to the ancient South-East Asian cultures that came together at this place of trade and communication.
Travellers interested in history, archaeology and architecture will adore discovering this stunning location.
Explore Chua Tran Quoc on West Lake
The Tran Quoc Pagoda was erected around 544AD and is one of the oldest Buddhist shrines in Hanoi.
This grand pagoda peeks out from behind dense greenery on the West Lake. It is beautiful and ornate and has always been a favoured by Vietnamese royalty as a place to celebrate a full moon or the Tet Festival.
Buddhist devotees continue to flock to this sacred site to worship, so it can get busy. But the hustle and bustle should be a welcomed part of the cultural experience.
We enjoyed the fragrant incense burning house, respectfully witnessing locals at prayer and seeing the intricate 17th-century carvings.
Take a food tour in Hanoi
Trying delicious new foods is an amazing part of travel, and Hanoi has some of the best in the world.
Focus your mind and taste buds by booking one of the many food tours available. Your guide will know the finest eateries and how to get there.
A wander through Thanh Ha market will introduce you to the delicacies the locals enjoy. True, some of it is a bit weird, but where's your sense of adventure?!
In Dong Xuan market the iconic street foods of 'Pho' and 'Bun Dau' with have your mouth watering! Munching while experiencing the sights, sounds, and smells of this exhilarating city makes a meal even more fun!
Between the walls of Hang Than Street you will find jaw-dropping puddings! The cakes for sale here are colourful, sweet, and smell divine.
Finish your culinary experience with a cup of local coffee, even caffeine snobs will be impressed with the quality.
Booking a street food tour is one of the things not to miss in Hanoi. Or if you are feeling a bit more adventurous, take a street food tour by motorbike!

Go to the Water Puppet Show
Water puppetry is a curious part of Vietnamese culture that, until the 1960s, used to be very specific to the north of the country.
Rice farmers working in the water-logged fields of the red river delta invented the art over 1000 years ago and its spiritual home is Thang Long Municipal Theatre.
During a show, the puppeteers are up to their middles in the water behind a screen to create the impression that the characters are moving on the surface of the water.
Traditional folk music is an intrinsic part of the show, and the musicians interact with the puppets as they tell the audience folk tales and legends. We saw a story about Hoan Kiem Lake and a giant tortoise.
A few tips if you're planning on booking a show! Don't sit near the front if you don't want to get wet and if fire-breathing dragons appear on stage, there will be fireworks going off soon!
Make a night of it and combine the water puppet show with a street food tour

PLAN YOUR PERFECT HANOI TRIP
Book ahead for your Hanoi trip
Find the best hotel deals on Coron island on Booking.com
Organise travel insurance to suit your needs with World Nomads
Book tours from Hanoi
Disclaimer: Our article contains affiliate links. If you make a purchase after clicking one of these links, we earn a small commission at no extra cost to you. It helps us to keep bringing you awesome content, trips, and partnerships!